Vanaha Organics & herbal
Exotic home Facial spa Kit
Regular price
Rs. 1,695.00
Regular price
Sale price
Rs. 1,695.00
Unit price
per
Sale
Sold out
This Facaial kit
1) Face Mist - made with aqua, rose extract , rose essential oils
direction - spray on all over face , take a cotton ball and wipe all dirt , you can use it reguler basis before sleeping
2) Arachis Face Cleanser "Peanuts are packed with omega 3 fatty acids which help our skin in many ways,blended with Nature's own energizer, Honey with exotic Ess.Oil blend of Patchouli Leaf , Cedarwood & Basil Leaf , Pink Clay gives your skin very smooth soften texture ,helps you to remove black heads white heads and clean your skin , every day use application with a Happy Good morning.
Directions to use: Take a small amount, mix with water and blend into a paste. Massage face for a minute and rinse off with warm water.Ingredients: contains Vegetable Glycerine, Peanut Seed Pdr. , Kaolin , Honey Liq., Ess.Oil blend of Patchouli Leaf , Cedarwood & Basil Leaf , Pink Clay Shelf Life: 4 months from date of packing."
3) Massage Cream "Jasmine blossoms are known for their strong and sweet aroma
Ingredients :Water, jasmine Essential oil, Rosehip Seed Oil, Emulsifying Wax, Stearic Acid, Jasmine Fragrance Oil, Royal Purple
"Direction : take small and spread allover face massage your face for 5 min
4) Moringa Clay Face Mask "The moringa tree is also known as the Miracle Tree and the Tree of Life. It's considered a superfood because the leaves are packed with vitamins A, B, and C, manganese, and protein, and the seeds contain potassium, fiber, and magnesium. This mask is lightly scented with the Spa Essential Oil Blend. It's a complex blend of lavender fine essential oil, bergamot essential oil, rosemary essential oil, and more
Direction : Apply on face with thin layer , leave it for 15 min Let it dry , wash your face with normal water
Ingredients : Distilled Water, Moringa Seed Oil, Avocado Oil, Emsulifier, Kaolin Clay, Moringa Leaf Powder, Spa Essential Oil Blend, Green Tea Extract, Optiphen
"
5) Aloevera Gel - Aloe Vera has been usefor thousands of years in skin care treatments. Crafted With organic ingredients this gel helps heal and restored dry, sun- damageand irritateskin. Further, it also contains vitamins, minerals, amino acids and and tioxidand ts. Direction To Use: Wash your face thoroughly with soap and water. Pat to dry. Apply the gel on your face and neck area. Massage it in upwarand outwarstrokes, Let it stay on the skin for 5 to 6 minutes, rinse with colwater. Avoicontact with eyes. Ingredients - Aqua,Glycerin,Grapeseed oil,(Aloe Leaf Juice,
Share Exotic home Facial spa Kit
Shipping

4-5 days for normal shipping , For any custom product it takes 10 days
Return policy

Return within 3 days of receiving without open the product.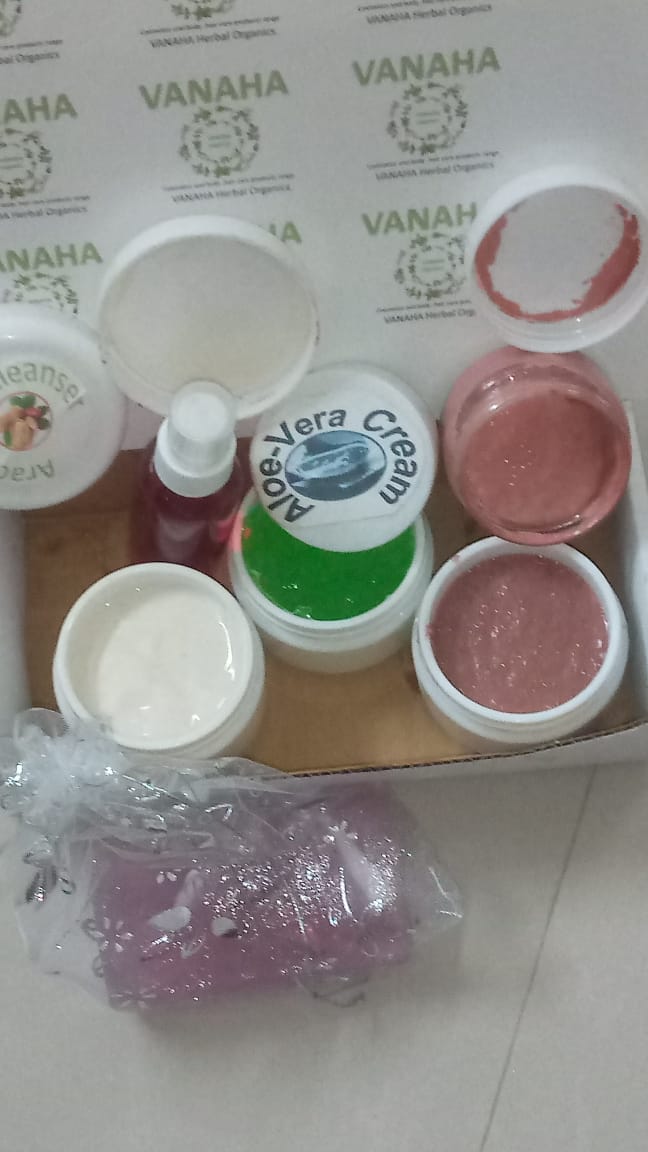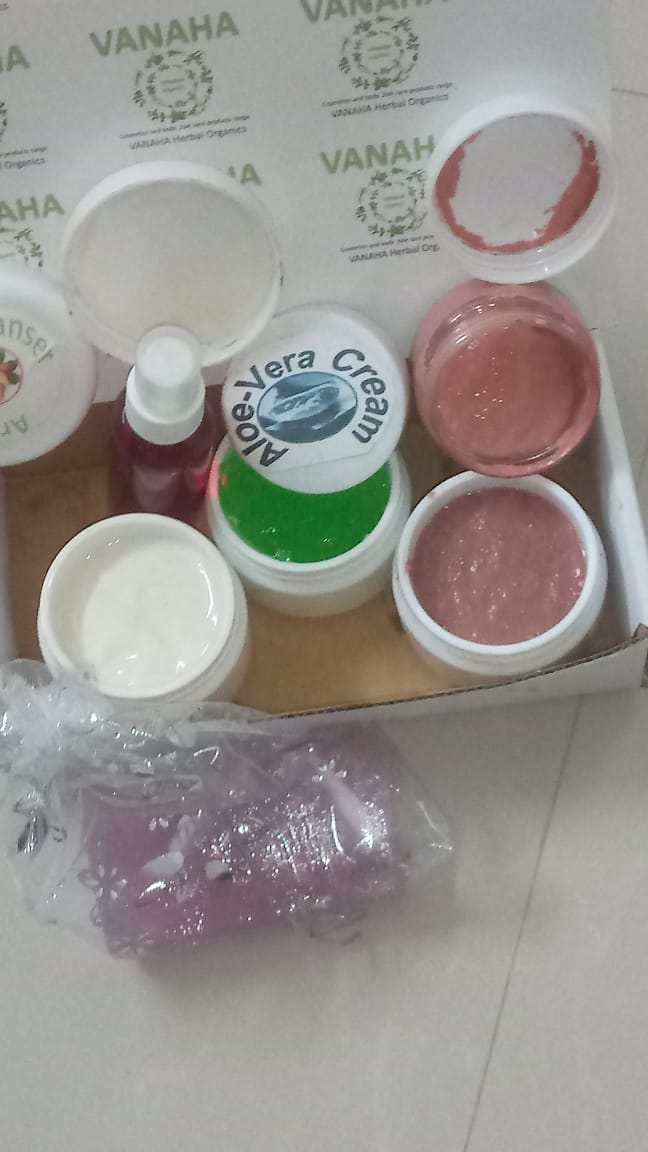 "Our mission is to provide high quality products that are not tested on animals and are completely safe for the environment."
Harsha, Founder
Vegan

Our entire collection is vegan and cruelty free.

Natural

Natural

We only use the finest
natural ingredients.

Recyclable

All packaging is recyclable and eco conscious.

Compostable

Orders are shipped with biodegradable peanuts.
Vanaha organics & Herbals